Migrant Children in Fang
The most harrowing part of my trip this time was a visit to the homes and nurseries for the children of migrant workers in Fang.

Many families are fleeing from Northern Shan State in Myanmar where there is fighting, both between ethnic groups and the Burmese Army. They are keen to escape because of fears that they will get caught in the crossfire where there are landmines on their land or they are scared that their children might be forcefully recruited into one of the armies.

They are desperate for work and so agree to live and work on orange farms run by the Thai mafia. The minimum wage in Thailand is £8 per day, but they are vulnerable and agree to work for £4 a day. They then pay up to £2 a day in bribes to the local police so that they don't get deported.

They live in tiny shacks in the orange groves, with a whole family of six or seven sharing a room. Most families have no furniture or bedding, so they sleep on rice sacks. There is no electricity, no running water and the floors are mud, so it is difficult to keep clean and washed. There are no mosquito nets, very limited cooking facilities and the main diet is rice and oranges.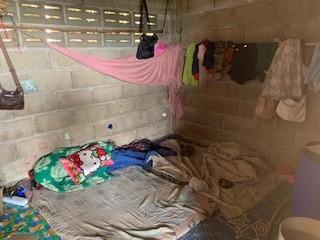 The working conditions are inhumane, with the parents working from 4.00am until 7.00pm, and the orange farms use a lot of chemicals. This affects the health of the whole family as they live in amongst the orange groves in chemical-filled air.

They have no access to doctors, so pregnant women are not medically checked regularly and their babies do not get ID cards. I met a deformed child who had never seen a doctor. He stays at home cared for by a nine year old sibling who does not go to school as a consequence of this.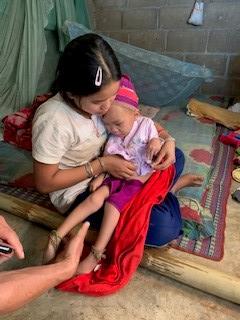 The families are trapped on the orange farms as there are road blocks on most roads with Thai soldiers checking ID papers. They are effectively slaves.

HART's partner SWAN (Shan Women's Action Network) runs a nursery for the children aged between two and five. They run it in a temple building as the Thai government does not allow buildings to be erected for migrant workers.

There are currently thirty-seven children in the nursery run by Aung and Aing. The first thing they do in the morning is shower all the children and then change and wash their clothes. Their parents do not have the time (or the water!) to do this. They then teach them, play with them and cook them lunch. Most of the children rely on this food as their main source of nourishment for the day. Aung said " They just have rice and oranges at home because the parents can't afford to feed them so they eat huge amounts of food here. We try to give them a well balanced meal."

The funding for this food has just been withdrawn, so HART will work hard to find a donor. Please contact Jo Russell at jorussell111@gmail.com if you would like further information.